Quarta-feira, 22 de Maio de 2013
Barulhinho bom
Terça-feira, 21 de Maio de 2013
Diane Stone - "Why Men Go Crabbing"
Something about men and boats:
the hopeful way they nod
to each other, even
before the wind kicks up
and grants permission.
The honest way men clamber
over gunwales, hauling bum knees,
muscles stiff from wading
through cold waves
with traps and oars in hand,
out of breath and out of shape
yet willing to lend tired arms to pain.
They know the rules of daily limits
and closed waters, the art of knots
and bait buckets packed
with expectations.
But joy is something else,
something more than reading tides
and steering clear of shoals;
it's more about—somehow—
getting one damn thing just right.
Segunda-feira, 20 de Maio de 2013
Músicas que são para a vida toda
"Way down south I know a girl who is blind.
She walks alone along a lonely highway each day.
She dreams that one day a man will pull up in a car.
He'll open up the door, she'll climb in and he will say:
"Hey babe, whatcha know? Hope you're ready to go...
'cause today's a perfect day
to chase tornados."
Yeah when the wild wind whips around your head you know,
that you have found a perfect day to chase tornados.

And what about that preacher man on the run from the law?
He killed a girl in Memphis and ran 'till the dogs tracked him down.
They shot him by the river and as he lay dying in the mud,
well someone asked him, hey Preacher, where's your soul going now?
And Preacher said, "Well, I do not know, but wherever it is I'll gladly go...
cause today's a perfect day
to chase tornados."
Yeah when the wild wind kicks around your head you know,
that you have found a perfect day to chase tornados.

Sometimes I think that the sky is a prison and the earth is a grave.
And sometimes I feel like Jesus, in some Chinese opera.
And sometimes I'm glad I built my mansion from crazy little stones.
But sometimes I feel so goddamned trapped by everything that I know.
And I wish it wasn't so, cause the only thing that anyone should ever know
is that today's a perfect day
to chase tornados.
Yeah, when the wild wind whips around your head you know,
that you have found a perfect day to chase tornados."
Domingo, 19 de Maio de 2013
The persistence of memory in Wikipedia
Sábado, 18 de Maio de 2013
Obrigado Paulo pela lembrança
"illumination comes so hard
makes me see but it leaves its scars
at times I wish that I didn't know what I know now
thought and thought until I lost my mind
looked and looked until I went near blind
the path is fair but so unkind."
Sexta-feira, 17 de Maio de 2013
Ri a chorar
Quinta-feira, 16 de Maio de 2013
Música para adolescentes como deve de ser
Poder
"Total Fucking Darkness"
É o nome desta banda
Terça-feira, 14 de Maio de 2013
"You're a needle in the hay"
The National - Fireproof from Noisefield on Vimeo.
Isto é tão bom
Sexta-feira, 10 de Maio de 2013
"Folk singers don't even look like folk"
"Show and Tell"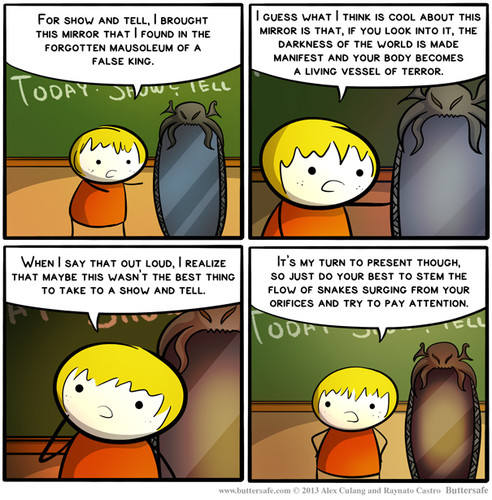 Quinta-feira, 9 de Maio de 2013
Hyperbole and a Half - "Depression Part Two"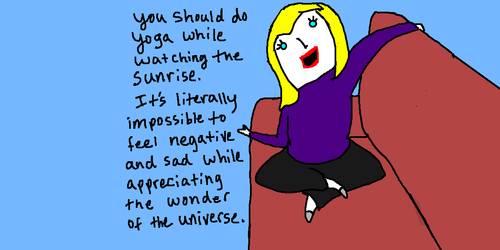 The beginning of my depression had been nothing but feelings, so the emotional deadening that followed was a welcome relief.  I had always wanted to not give a fuck about anything. I viewed feelings as a weakness — annoying obstacles on my quest for total power over myself. And I finally didn't have to feel them anymore.
But my experiences slowly flattened and blended together until it became obvious that there's a huge difference between not giving a fuck and not being able to give a fuck. Cognitively, you might know that different things are happening to you, but they don't feel very different.
"This is Water"
Wishing the same things since 1987
Quarta-feira, 8 de Maio de 2013
Obrigado Inês
Segunda-feira, 6 de Maio de 2013
Tim Myers - "Neolithic Burial"
When he died they hunched him up
like baby in womb, curled him
into a shallow scoop in the cave-floor,
planted him like a seed as he slowly stiffened,
covering his slumped and earthen limbs
with a layer of red ochre,
sprinkling him with wildflowers—
then turned away.
Moon comes back each month, so bright,
then curls itself into a dying crescent—
baby struggles out of a woman's darkness—
petals of delicate blue, pale yellow, in the wet woods,
how do they know
when sun is past dying and comes
to life again?
This is older than cities or books,
older than prayers or earnest discussions,
older than farming,
something buried and burst open
long before words, ideas, church or temple or crudest holy place,
older even than itself,
Sábado, 4 de Maio de 2013
Damn Girl...